Selma
With Live Score by Jason Moran
Cheche Alara, Conductor
New West Symphony
February 1, 2020 at 8PM
Generously sponsored by Melissa and Ryan Clinton
Artistic director for jazz at The Kennedy Center, Jason Moran returned to The Soraya following his raucous Fats Waller concert. In honor of Martin Luther King Jr.'s birthday and Black History Month, the composer and jazz pianist performed his score, accompanying Ava DuVernay's 2014 film, Selma, on the large screen. Moran was joined by New West Symphony. Selma dramatizes the events leading up to King's landmark 1965 march for voting rights. About Moran's astonishing first feature film score, Film Music Magazine noted, "It's an unstoppable sense of history-making that could perhaps only be captured by a musician so steeped in jazz and its cultural heritage."
Selma earned Golden Globe nominations for Best Film, Director, Actor, and Song for "Glory" (by John Legend and Common, who also appeared in the film). "Glory" also earned the Oscar for Best Original Song.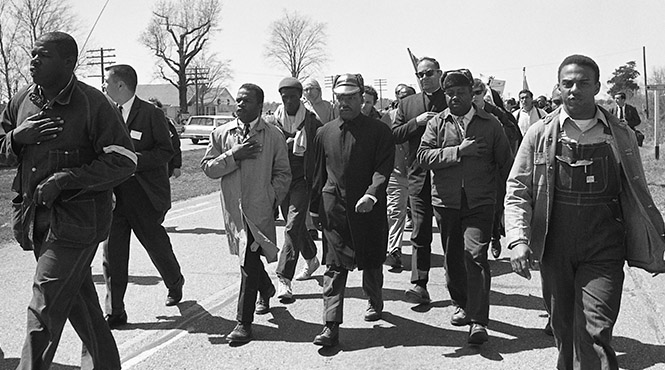 John Lewis (3rd from L.), Dr. Martin Luther King Jr. (center), Ralph Abernathy (2nd from R.), and Andrew Young lead the march from Selma to Montgomery which took place on March 21-25, 1965.
From Selma to Montgomery
The Voting Registration Campaigns of 1963 and 1965
This photographic exhibition showcased images of the African American struggle to register and vote in Selma, Alabama. Photographer and social activist John Kouns traveled to Selma for the expressed purpose of documenting the work that would lead to the passage of the Voting Rights Act of 1965. The images captured by Kouns focuses on the demonstrations and marches that took place before and after the infamous beatings that became known as "Bloody Sunday." Represented here are photos of Freedom Day, Turnaround Tuesday, and the final Selma to Montgomery marches.
CURATED BY THE TOM & ETHEL BRADLEY CENTER
Dr. Kent Kirkton, Founding Director
Dr. Karin Stanford, Special Projects Director
Keith Rice, Historian/Archivist
Tina Gharai, Archival Assistant
---
88.5, Carolyn Clark Powers, and The Soraya Present
Mavis Staples with Special Guest Son Little
February 13, 2020 at 8PM
Generously sponsored by Carolyn Clark Powers
Mavis Staples has been named "one of America's defining voices of freedom and peace." The Grammy Award-winner has been inducted into both the Blues and Rock & Roll Halls of Fame. Staples brought her roof-raising performance to The Soraya, including songs from her twelfth studio album We Get By, a full-length collaboration with artist/producer Ben Harper. Staples' powerhouse sound has thrilled audiences for over half a century.
---
Step Afrika!
Drumfolk
Featuring Special Guest
Taylor McFerrin
February 23, 2020 at 3PM
The presentation of Step Afrika! was made possible by the New England Foundation for the Arts' National Dance Project, with lead funding from Doris Duke Charitable Foundation and The Andrew W. Mellon Foundation.
Following a revolt of African slaves in the American South, The Negro Act of 1740 denied African people the right to read, assemble, and use drums. But the beat could not be stopped. The Drumfolk transformed their own bodies into musical instruments to preserve the rhythms and culture of their ancestors and to inspire their survival in a new world. Drumfolk gave rise to other percussive art forms — tap, hambone, stepping, and present day beatboxing. Drumfolk is a resounding exploration of nearly three centuries of a cultural phenomenon.
GALLERY