Inextricably Linked
By Vida Liu
September 22, 2022 – November 5, 2022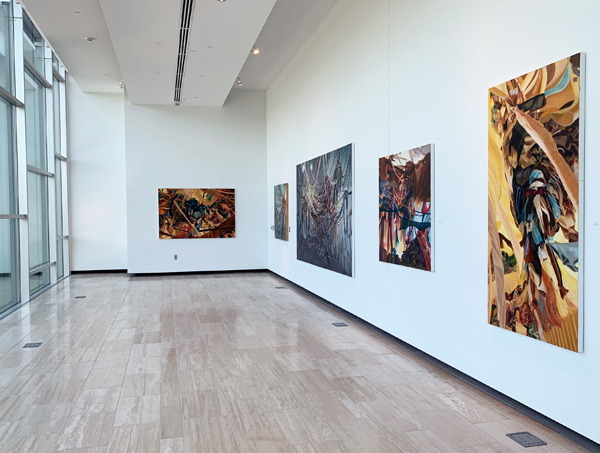 Installation view, Inextricably Linked, 2022
Inextricably Linked is an exhibition based on a Chinese Ancient Idiom – "A thousand thread and ten thousand pieces of shredded clothes (silk-ribbons) tangled together." It is a metaphor for something that is impossible to disentangle or separate.
Artist Vida Liu uses her clothing and other donated materials from acquaintances, family, and friends. These once desired objects become absurdly impractical constructions that take up space, exposing behaviors that include excessive consumption and uncontrollable hoarding, as well as the notion of want versus need. The work embodies mixed feelings associated with unrestrained consumption and its consequent feelings of guilt and suffering; the objects and images have a dichotomous presence of both celebration and tragedy.
Vida Liu is a Los Angeles based artist. She grew up in Hong Kong, Vancouver, and Los Angeles. After graduating from USC with a Business Administration degree, Vida worked in the financial industry for many years. Motivated by an irrepressible passion for arts, she later returned to school and received a B.A. in Studio Arts from the Claire Trevor School of the Arts at UC Irvine. She subsequently obtained her MFA degree from the Mike Curb College of Arts, Media and Communication at California State University, Northridge. Vida is currently teaching and practicing art in Los Angeles.
For more information about the artist visit: https://www.vidaliu.org/